Words to Relax is an instructional book on how to relax, and includes more than 60 relaxation scripts anyone can use to decrease blood pressure, reduce muscle tension, and feel calm at will.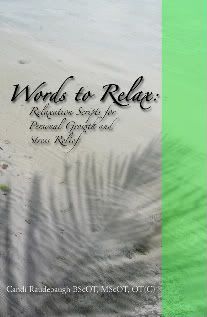 Professionals will find this book an essential resource for facilitating guided relaxation groups and teaching relaxation techniques to groups or individuals. Non-professionals benefit from clear, straight-forward instruction to learn how to relax, monitor the effectiveness of relaxation techniques, and improve overall health using relaxation.
Learn what relaxation is, and how to use relaxation techniques safely. Words to Relax provides guidelines for recording and using relaxation audio, relaxing scripts out loud for others, applying relaxation to everyday life, and fitting relaxation with spiritual beliefs. The book also includes a relaxation journal that may be copied for personal or professional use.
Words to Relax provides concise descriptions of visualization, guided imagery, meditation, progressive muscle relaxation, autogenics, and other relaxation techniques. Choose from 67 unique scripts plus mix and match induction, body, and conclusion elements to create hundreds of customized relaxation scripts.
Words to Relax is a valuable resource you will use again and again.
Available on Amazon or my e-store for $35.95.
About the Author
Candi Raudebaugh is an occupational therapist who specializes in mental health. She writes relaxation scripts, and uses relaxation techniques with clients in both individual and group settings. Her audio recordings are available every week on the Relaxation by Inner Health Studio Podcast.
Candi lives with her husband in Red Deer, Alberta. She enjoys reading, drawing, painting, guitar, drums, motorcycle riding, kickboxing, photography, travel, hiking, outdoors, computers…and, of course, website building and recording relaxation materials.