Learn to Relax: Online Course

Are you experiencing stress? "Learn to Relax" will teach you the skills to relax your mind and body and reverse the harmful effects of stress.
Informative presentations explain the science behind the relaxation response, followed by a guided relaxation session. Experience deep relaxation through progressive muscle relaxation, meditation, and other techniques.

You will finish each module feeling great, but also take with you practical skills you can use to relax on your own. Your course registration includes audio downloads of 12 guided relaxation exercises so you can practice a variety of relaxation methods, and continue to use the ones that work best for you.
Sign up now to take this class at your own pace - with support along the way. You are welcome to post questions at any time to connect with other students taking the class and with Candi, the instructor. Candi will answer your questions and provide information to help you learn how to relax.

The cost is $45, which includes 5 instructional modules, 12 relaxation audio downloads, and access to a PDF file of the Learn to Relax course manual.

The Learn to Relax Course Manual is now available.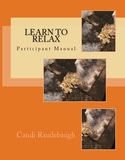 Learn to Relax Course Manual: Table of Contents

CONTENTS
Introduction......................................................................1 Relaxation Safety 2
Module 1: Stress..............................................................3 Definition of Stress 3
The Fight-or-Flight Response 3
Causes of Stress 4
Physiology of Stress 4
Symptoms of Chronic Stress 6
Exercise: Stress Assessment 6
Stress Screening Test Results 11
Interpretation of Stress Screening Test Scores 11
Relaxation Exercise: Quick and Easy Relaxation 13

Module 2: What is Relaxation?......................................................................17 Benefits of the Relaxation Response 17
Relaxation Techniques 18 Relaxation and Spirituality 19
Relaxation Exercise: Progressive Relaxation 21
Module 3: Practical Applications and Relaxation Challenges......................................................................27
Overcoming Relaxation Challenges 28
Finding the time to do a relaxation technique 28
Relaxation is not working 28
Relaxation causing anxiety 29
Falling asleep when trying to relax 30
Mind wandering 30
Relaxation is not enjoyable 31
Relaxation Exercise: Beach Visualization 33

Module 4: Biofeedback...................................................................37 Definition of Biofeedback 37
Why is biofeedback useful? 38
How to use biofeedback at home! 38
Important considerations about Biofeedback: 39
Relaxation Exercise: Biofeedback Therapy Relaxation 41
Module 5: Using Relaxation Exercises for Positive Change...........................................................................47
What is Guided Imagery? 47
How to Write a Custom Relaxation Script 48
What is the Induction? 48
What is the Body of a Relaxation Script? 49
What is the Conclusion? 49
Creating Personalized Relaxation Scripts 49
Positive Wording for Change 50
Relaxation Exercise: Self-Esteem Relaxation 52
Conclusion.....................................................................57
Appendix 1: Summary.........................................................................59
Appendix 2: Relaxation Journal............................................................................61
References.....................................................................73
About the Author.............................................................................78
Back to Inner Health Studio Home